Well. We did a thing. In the middle of a pandemic. With a toddler and a preschooler. We renovated our living room, friends.
The overall vision was mine, but an interior designer and team of renovation specialists at G&L and Sons Renovations, LLC in Cedar Grove, NJ really made everything come to life. We can't recommend them enough. Their team and all of their subcontractors are highly skilled and incredibly professional. They also handled getting all the permits and overseeing all the town inspections. This was a huge help and should not be undervalued if you are searching for a contractor. We intend to use their services again for future jobs! (No, this post isn't sponsored, we just had a great experience with them!)
The first thing I knew I wanted was a clean and modern but timeless look. The walls used to be a medium gray which really darkened the room, especially on cloudy days. We chose Sherwin Williams Greek Villa to add a little bit of warmth in while still keeping a very light look to the new walls.
Welcome to our new, light and bright living space in our lovely home…
Lighting Upgrades
The hanging light fixtures were upgraded about a year ago. We chose school house lights and a white ceiling fan to lighten up the ceiling area. I promise this was a huge upgrade from the bronze, Greco-Roman-esque fixtures and sconces that came with the house. Additionally, the renovation included new can lights embedded in the ceiling. The grandparents should have no problem reading in here when they can finally visit again!
New wall sconces in bright white with brass accents complete the lighting upgrades.
Hardwood Floor Upgrade
We chose to remove the laminate flooring and the carpet on the stairs. White risers with oak floors and steps match the rest of the flooring in the house and update the look.
New Windows and Doors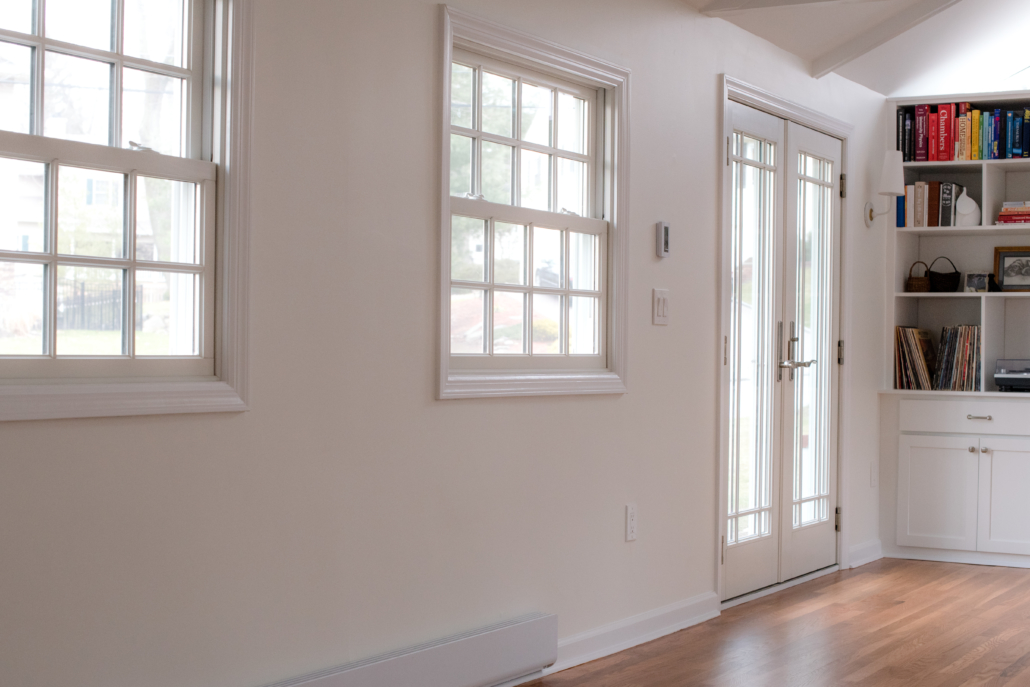 The windows in this room used to be casement windows. They were pretty neat looking (and rolled out) but leaked heat out in the winter and the cool out in the summer. The French doors that came with the house didn't open. We assume the last person to update flooring didn't measure correctly and decided to made it work. Our upgrades include full sized windows and working doors with matching screens from Andersen.
Vinyl on Repeat
This is one of our favorite spaces in the bookshelves — the record player and a small tribute to our sweet dogs, Dakota (who crossed the Rainbow Bridge in 2018) and Bronx, our feisty little Chiweenie. Shout out to my sister-in-law, Claire Tiwald, for the gorgeous graphite drawing of our two little knuckleheads.
Fireplace Upgrade
The fireplace originally in the room was upgraded from a ventless fireplace to a vented Mendota model from Light My Fire in Fair Lawn, NJ. The stone surround was hand selected at First Class Granite in Fairfield, NJ. We have a few marble top tables throughout our home and wanted to bring that aesthetic into this room. You know, to make it look super timeless and classy. Mission accomplished with this stone.
Timeless Hardware With A Modern Flair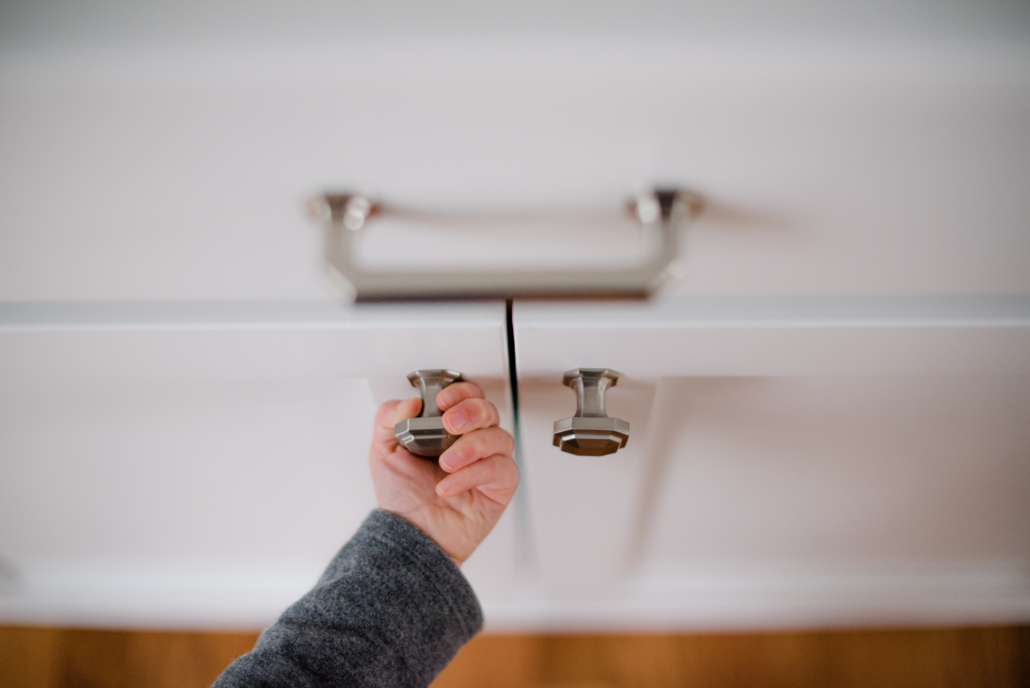 We chose new hardware for the drawers and cabinets from the Chareau collection from Top Knobs. I love accents of gold and brass, but brushed satin nickel felt like a more timeless look. My sweet little photography assistant couldn't resist helping me today. I assure you the knobs are not gigantic; her hands are just super tiny.
One More Look At These Built-ins…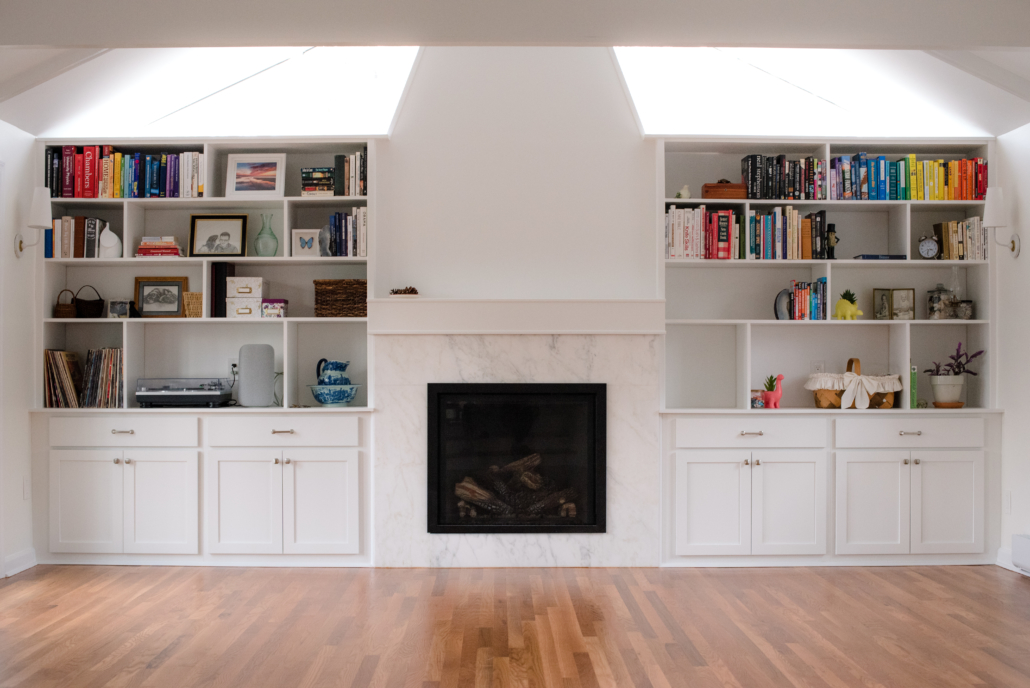 The built-in bookshelves are stunning. Seriously. The guys that built this beautiful creation did such a wonderful job. The shelves are everything I hoped they would be, and then some. They are sturdy, yet elegant and can hold all of our textbooks, cookbooks and novels. Yes, I arrange them by type and in rainbow order. Yes, this sparks joy.
We have to wait to add furniture and finish the look for now. First, the floors need to cure before we can add our rug. Also, we very brilliantly thought it would be a great idea to buy a new couch (again, in the middle of a pandemic). The couch won't be added to our lovely room until at least May. Honestly though, we have been in lock down for nearly a year now, so what is a few more months for a classy couch to fit the space? Until then, the room has incredible acoustics and the kids have loved their new indoor play space because it has so much room for activities!
I can't wait to finish this space. A carpet, couch, filling in the bookshelves, hanging a mirror over the fireplace, to name a few. This room brings our whole family so much joy. I can't wait to share it with our family and friends soon!
https://lmtphotodesign.com/wp-content/uploads/2021/01/20210111-BruceCtLivingRoomReno-3762-scaled.jpg
1709
2560
lmt photodesign
https://lmtphotodesign.com/wp-content/uploads/2018/02/lmt-photo-design-2018-logo.png
lmt photodesign
2021-01-11 20:58:24
2021-01-11 21:08:12
Living Room Renovation in Our Mid-Century Home